When I was 12 years old I bought a book that was located at the grocery checkout line about yoga. The book cost a quarter and it showed different yoga poses. I was able to master the majority of the poses and that sparked a love of yoga for me. I didn't understand all of the principles of yoga but I did enjoy the physical aspect of the practice and found that it helped me as I began to study dance. I didn't stay committed to dance but I never forgot what I learned from that little yoga book. When I began practicing yoga many of my friends were not familiar with yoga. I tried to teach my friends but only a few showed any interest.
Yoga for kids has been growing in popularity. Yoga is a non-competitive activity and is especially good for children who don't excel in traditional sports activities. The poses and routines in the Yoga for kids classes are designed for children. Many of the routines developed are presented in a fun way. Some of the poses are presented as animals or trees that allow the children to use their imagination and make it like a game. Children will become more conscious of their bodies therefore making them more aware of their diets and posture as they continue to practice yoga. Children are naturally more flexible and by practicing the yoga poses they can set a good foundation that will further increase their flexibility as they get older.
Benefits:
Improved posture, balance
Improves gross and fine motor skills
Improved concentration in school
Children are subjected to many more stressors today. Sometimes the stress is harder for children because they haven't learned how to effectively cope with it. This is a contributing factor if children experimenting with many unhealthy habits. Yoga can help channel that energy, through breathing techniques and yoga postures, and teach children how to effectively manage stress. These stress management tools will be a foundation that will help the child throughout their life. Yoga has also been shown to children help children with developmental and learning disabilities. Children with Cerebral Palsy have experienced improvement in muscle tone. Children with ADHD have experienced improvement with hyperactivity and concentration associated with the breathing techniques learned through yoga.
There are many classes around the country that teach yoga for kids along with many DVDs that are led by qualified instructors. Many of the classes and DVDs teach children as young as 2 years old. There are also yoga mats available for kids along with balls and yoga totes.

PRODUCT SPOTLIGHT
Wai Lana's Little Yogis™ Eco Mat $24.95
A fun. kid-sized yoga mat that's healthier for the planet and for your little ones Free from phthalates. phenols. dioxins. and furans Cute cartoon print of Wai Lana and her Little Yogi friends Sticky. nonslip surface helps kids keep their footing Smaller. kid-sized mat to personalize their practice Lightweight. durable. washable and latex-free (tested by an independent laboratory) Measures 1/8″H x 24″W x 60″L Yoga is a safe. challenging. and healthy activity for children. and it's fun too! Yoga helps children develop strength. balance. flexibility. and concentration and encourages a more focused. peaceful approach to life.Your children will thank you for introducing them to yoga. The Little Yogis Eco Mat is designed to provide children with a safe. stable foundation for building a yoga practice that will start them on a lifelong path of health and well-being. This mat is free from phthalates. phenols.

Wai Lana's Little Yogis™ DVD Vol. 1- $12.95
Wai Lana's Little Yogis fulfills every parent's dream. Here's a safe, fun, challenging, and healthful activity that benefits all of the kids in your life—even big kids like you. Your children will love working out with Wai Lana, the world's most-watched and best-known yoga teacher. With her warm, personable style, Wai Lana easily inspires her little yogis with a fun game of yoga. The poses Wai Lana has chosen for Little Yogis will entertain and delight your kids while working to strengthen their growing bodies, stretch their muscles, and improve their balance and coordination. You don't even have to tell them it's good for them! Your children will love this playful DVD and will always appreciate you for starting them on a path toward lifelong health and happiness.
Your fitness goals and spiritual goals should be considered when choosing a style of yoga.  Here, we will provide a brief overview of some of the more common types of yoga.
HATHA
Hatha Yoga was founded by Yogi Swatmarama in the 15th century in India. Hatha yoga is a good place to start for beginners.  Hatha yoga is the foundation of all yoga styles.  It is very popular in the United States.  Hatha yoga classes are focused on slow and gentle movements.  Hatha yoga teaches basic poses (asanas) and breathing exercises (pranayama).  Emphasis is on relaxation and meditation.  Hatha yoga is very beneficial for pregnant women.
IYENGAR
Iyengar  yoga is also very good for beginners.  Iyengar yoga was created by B.K.S. Iyengar.  The primary focus of Iyengar is proper alignment.  The goal is to unite the body, mind and spirit for health and well-being.    Iyengar introduced the use of props in yoga.   The purpose of the props is to help the body attain proper alignment.  Today, many yoga practitioners use blankets, blocks, straps, pillows, chairs, and bolsters
KUNDALINI
Kundalini yoga highlights rapid movement. In addition to emphasis on the poses, breathing and meditation are also practiced.  One of the theories behind Kundalini yoga is that there is energy at the base of the spine that is coiled like a snake.  As you progress through your postures, you awaken the "snake." It moves up your spine and flows through seven centers of consciousness, which are known as chakras.  Kundalini yoga may be more challenging to beginners.
BIKRAM
Bikram yoga is practiced in a room that is heated to over 100 degrees Fahrenheit.  The goal is that the heat and poses will loosen the muscles. Sweating will also release toxins from the body.  Typically there is a 26 pose sequence and two breathing techniques involved with Bikram yoga.  Bikram yoga is not recommended for beginners or those who aren't fit.   There is a risk of dehydration and other cardiac problems associated to exposure to the heat.  It is recommended that you talk to your physician before beginning this program.
ASHTANGA
Ashtanga, or power yoga, is designed to build strength and endurance.  Ashtanga is focused more on strength and endurance and not as much on the meditative and spiritual aspects.  Ashtanga yoga is physically demanding and it is not recommended for beginners.  Students move quickly through a series of increasingly difficult poses.
Doing yoga during pregnancy is an excellent choice for mother-to-be and baby.  There are many benefits to prenatal yoga.  It's very important to do prenatal yoga and not regular yoga.  There are some yoga poses that are not recommended  for pregnant women.  Prenatal yoga is comprises a series of gentle stretches and breathing exercises.  These stretches help elongate and strengthen key muscle groups used in delivery.  It also helps to increase flexibility.  Prenatal yoga can relieve back pain.  Yoga minimizes water retention which contributes to leg and ankle swelling.  Yoga also helps with balance during those sometimes awkward latter stages of pregnancy.  The routines should be modified for each trimester of pregnancy.
Yoga also helps the baby by increasing the circulation of blood and oxygen to the baby.  Yoga improves posture which helps the baby enjoy optimal space in the womb.
In addition to the physical benefits of yoga there are also benefits for the mind. Learning effective breathing techniques is very beneficial.  Deep breathing can calm the mind and help manage pain. By consciously practicing breathing, you will help to meet the challenges of labor.  When the body is in pain or highly anxious it produces adrenaline and inhibits the production of oxytocin which, ironically is the hormone the makes labor progress. Learning breathing techniques is a big part of standard prenatal classes.  If you can incorporate deep breathing learned through yoga this will be an added benefit.
Yoga props will help you get the optimum results from your sessions.  Some people will choose to purchase a thicker yoga mat for extra support.  Yoga bricks and bolsters are also recommended to help with balance, especially in latter trimesters.  There are some very good prenatal yoga dvds to choose from
Taking a prenatal yoga class is a wonderful way to fellowship with other expectant mothers.  It gives you an opportunity to share and receive support during your pregnancy.
It's important to consult your doctor before you begin any exercise program.  After you've had your baby and gotten approval from your doctor, yoga is an excellent way to get back in shape.  Honor your body and do as much as it tells you it can handle.
Prenatal yoga is an excellent choice that you and your baby will appreciate.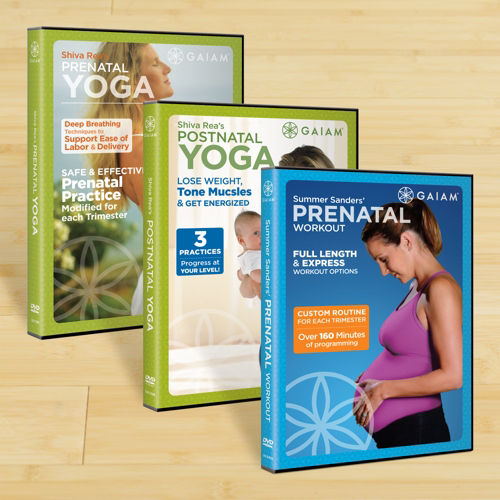 Moms to Be Yoga Kit

"Shiva Rea's Prenatal Yoga DVD: Respected yoga expert and mother Shiva Rea designed this program specifically for pregnancy. Safe stretching and strength-building prenatal yoga exercises increase energy and stamina, and develop concentration for labor and delivery. Includes modifications for each trimester. 60 minutes. Shiva Rea's Postnatal Yoga DVD: Respected yoga expert and mother Shiva Rea designed this program specifically for new moms. Postnatal program teaches yoga moves to restore muscle tone and strength, ease strain from carrying baby, and help mom and child bond with yoga that includes baby. 60 minutes. Summer Sanders Prenatal Workout DVD: Feel and look better throughout your pregnancy with a safe and effective prenatal exercise program hosted by Olympic gold medalist Summer Sanders and her personal trainer, Keri Crockett. Improve posture, strength and muscle tone ??? even experience a smoother delivery. Learn how to stay strong and sexy while expecting. Choose from full-length to express workouts. At seven months along in this program, Summer demonstrates proper form for each exercise, always aware of the vast changes your body is undergoing. This safe prenatal program will help you remain active and fit during your pregnancy, as well as help you regain your strength and stamina post pregnancy. 160 min. USA."
Finally, a complete home yoga kit for moms to be. In our Baby Ready Yoga DVD (120 minutes), yoga master and mom Shiva Rea guides a prenatal practice of breathwork and gentle asanas with trimester modifications and a postnatal program to help new moms restore energy and strength. Includes 68″ premium yoga mat, foam yoga block and 6′ cotton yoga strap. Imported.Gaiam is your source for all things Yoga.
You don't have to take a vacation from yoga while on vacation. Here's how to incorporate yoga practice into your vacation and feel more refreshed and energized than ever.
Vacations are times for us to relax and recharge.  While vacationing, don't forget about your yoga practice.
If you are considering a spa vacation they are a number of yoga retreats around the world.  If you check your local yoga studio to see of they are sponsoring any retreats or if they can provide any recommendations.  Some hotels offer yoga classes or have space provided where you can practice.
You don't have to pack a lot of equipment while traveling.  Make sure you pack loose fitting clothes. There are lightweight yoga mats that can be used for travel.  If you don't want to pack a mat you can invest in a pair of yoga socks.  These socks have a non-slip sole and can replace your mat while traveling.
A portable DVD player would be a great choice to play your favorite yoga dvds.  If you can access the internet you can utilize free online classes/podcasts.  If you have a smartphone there are some very useful apps for yoga.
There are yoga flashcards that illustrate different poses.
You can make the most of your vacation by not forgetting about your yoga practice.
There are many benefits to using Yoga props. Yoga Props enhance your routine by allowing deeper stretches, proper alignment and better balance.  You should always work at your own comfort level to avoid injuries and to achieve the optimal benefits from your yoga practice.  Yoga Props help both the beginning and experienced yoga practitioner. In this article I will list some of the more common props that you can purchase along with a few others that are not as common but would be good to purchase.
Yoga Mats


A Yoga Mat
is an essential purchase. Some yoga classes will rent mats; there are many that require you to bring your own mat. If you practice yoga at home you definitely need your own mat.  Yoga Mats
are also called sticky mats because they provide traction and stability. Yoga Mats
come in a variety of thicknesses and lengths.  Be sure, when purchasing your mat, to choose one that corresponds with your needs.
Yoga Brick or Block


Yoga Block or Bricks
help students achieve proper alignment.  Yoga Block or Bricks

are generally nine inches long, six inches wide, and three inches high. You can purchase foam, wood or Eco-friendly cork bricks.
Yoga Bolster

Yoga bolsters are a must-have purchase for prenatal yoga but it can be of benefit to everyone.  Bolsters are cylindrical, rectangular or square shaped pillows.  It is used to support the back, legs and stomach.  Bolsters can help people with injuries or are suffering from back pain.  Yoga bolsters can also be used as you relax around the house.
Yoga Straps


Yoga Straps
can help to increase flexibility and allows you to hold your positions longer.  They are available in a variety of sizes.
OTHER ITEMS YOU MIGHT CONSIDER PURCHASING

Eye Pillows
are small, weighted pillows that cover the eyes.  They help to relax the eyes.  Yoga Eye Pillows
can be purchased in a variety of fabrics along with different fillings.  The covering of the pillows can either be made from synthetic or natural materials.  They can be filled with aromatherapy herbs or flaxseed.
Neck Pillow

Yoga neck pillows are cylindrical in shape and are usually filled with buckwheat hulls.  They are covered in cotton or silk.  Some neck pillows come with and without scents. Yoga  neck pillows conform to the shape of the neck to give support.
The main goal of yoga is to unite the mind and body with the spirit.  Yoga is not about competition.  Your goal is to be the best the YOU can be.  Purchasing yoga props can help you achieve this goal.
Check out great yoga accessories here:

Once relegated as an obscure practice, yoga is experiencing mainstream acceptance. The top medical facilities in the United States has included yoga in their treatment plans for many disorders.
Some of the health benefits of yoga includes but is not limited to:
Stress reduction. Yoga redirects your focus away from many of the stressful aspects in your life to a calming state as you focus on breathing and proper coordination.
Increased fitness. With continued practice, yoga helps increase flexibility, balance and strength. This help guard against injuries when participating in other sports. Many professional athletes practice yoga.
Management of chronic health conditions. Yoga has been shown to help with other medical disorders. Yoga can help with blood pressure, back pain and heart rate.
Weight loss. yoga makes you more conscious of your body and may influence choices you make that will contribute to a healthy lifestyle.
In the ancient Sanskrit language yoga means, "union" or "yoking". The goal of yoga is to achieve a physical and mental state of well-being by combining exercising, proper breathing , special poses and meditation.
Hatha yoga is the most commonly practiced form of yoga in the United States. It consists of nearly 200 poses and breathing excercises.
You don't need a lot of fancy equipment to practice yoga. The essentials are:
Yoga Mat (there are also many organic, eco friendly mats available)
Balance Ball
Yoga Brick
There are many Yoga DVDs available making it possible to workout in the comfort of your home.
As with any physical activity program, check with your doctor before you begin. This is especially true if you have issues with balance or have high blood pressure or glaucoma.
The purpose of yoga is not only to get our body in shape but also to apply the techniques learned(especially breathing) to our everyday lives.